SharaLee Ward, the talented singer/songwriter from British Columbia, Canada, sings beautiful smooth and soulful songs that will leave the listener craving more.

Sharalee, our Daughter the Bride, and the Groom Nathan, graced us with their talents at their own outdoor wedding reception. She sang a beautiful love song to Nathan as he accompanied her on his guitar.
It was a proud moment for her father and I. Tears of joy, and pride filled our hearts as our daughter expressed her love for God and her new husband through song.

An emotional public expression of her love and devotion to her new husband.
Since then they have had the privilege of performing at several functions, including destination weddings.
Please click on the photos to go to her site for bookings. She would be honored at your request, and would love to accommodate you and your guests at your venue.
SharaLee Ward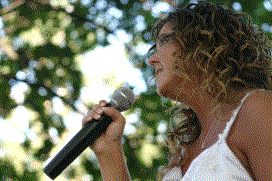 ---