I discovered a cute little white chapel, not far from where I live near Chilliwack BC.
This white chapel is set in a farm community just outside of town. Nestled in between Adams and Yale road, surrounded by beautiful aged trees, this little church really has it all.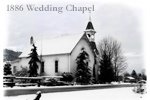 It has a certain elegance that only comes with age. This was very evident as I stepped inside to take a peek. My nose caught the aroma of aged varnished wood, and I was pleasantly surprised by the vintage interior.
This church has gracefully aged, with all of the trim, the flooring and the pews still in their original state.
Lending it self to many years of service, this beautiful church has lots of charm and appeal. Not only is it a gorgeous place for a wedding, but they also have a great photographer. Elizabeth Kowal.
What more could a Bride ask for, with a talented photographer in a perfect country setting. This could be your dream wedding package come true. Please contact Elizabeth at White Album Weddings for your photo needs and more information on the white chapel.




Click on image to connect
with White Album Photography
Studio on Face Book.