A wedding theme only requires a bit of a creative imagination.
One of the first things that comes to mind when creating a wedding theme, is all of the different ones that I have read about or seen on television.
In this day in age it seems just about anything goes. I've even seen people get married under water, up high in a hot air balloon, or on the end of a bungee cord. What ever you decide, The sky is the limit when it comes to tying the knot.
A summer wedding in a park, a fall wedding in a pumpkin patch, a winter wedding in an ice castle or a spring wedding surrounded with daffodils. No matter which one you chose, they are all beautiful outdoor wedding ideas. wedding themes can be lots of fun to plan with a little imagination.
They come to life when the right decor is incorporated into the venue location. Be it a park, a beach, a resort or on a mountain top.
Add a few silk flowers and some decor and you've got the perfect, setting for a unique, personalized wedding.
---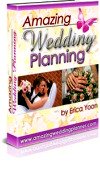 ********************************************************
Related Links
wedding anniversary gifts by year guide.