here are some great picnic recipes for an outdoor wedding reception.
I've collected some great simple
picnic recipes that are easy to put together and don't take long to create. For an outdoor wedding reception you want food that is easy to pack and store well in coolers. They can also be prepared a day or two ahead of time. The baked salmon we had, was prepared a day ahead and it was very delicious. Finger foods
work great as well depending on your choice of menu. For this to work properly you would need some friends to put the food together or a catering company that could prepare it for you.
One could always tell all the guests to just bring a picnic food item as a potluck type venue, but that depends on if you feel like imposing on your guests to do that.
Some people may feel that a potluck would not be appropriate especially if some are coming from out of town. I guess it would depend on your guest list.
For my Daughter's outdoor wedding we had a gazebo that we centered the reception around. This way the food was under cover and in the shade.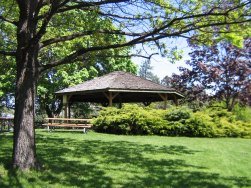 Recipes
Strawberry custard tarts
Blueberry pie
Sea food appetizers
Fruit salad
lemon squares
Brownies

Cupcakes For All Occasions

Other Recipe Links
My happy cooking
Top Holiday Recipes
Peach Depot
Cooking Easy Recipes Partner
This site was created with SBI, for more info on how please click here